Long-Distance Moving Services
Our Temecula Movers Have You Covered
Moving to another city, state, or country? Facing a long-distance move can be exciting—and a bit overwhelming. There are so many things to do and tasks to coordinate, not to mention a budget to think about. Our Temecula moving company is here to help. At Affordable Quality Moving and Storage, we have 25 years of experience handling long-distance moves. We tackle residential and commercial moves with the energy and expertise it takes to get the job done right and on time.
Our long-distance moving services include:
Loading, transportation, and unloading
Storage solutions, if needed
To find out more about our long-distance moving services, call (661) 622-2636.
Prepping for a Long-Distance Move
Long-distance moves are more complicated than local moves. It takes a lot more planning and coordination because you can't just "run over" to the old house to pick up something you forgot. You can't make another trip because everything wouldn't fit in the truck the first time around. Our Temecula moving team knows what to expect and how to help you prepare so moving day—and the days leading up to it—go as smoothly as possible. We can do the heavy lifting so you can focus more on building your life in a new city.
There is also much you can do to make your long-distance move successful, whether you're moving to or from Temecula. Preparation is a big part of it, but there's a lot of physical labor as well. That's simply the nature of moving any distance. Fortunately, there are ways to alleviate the pressure and make moving less stressful.
You can make your long-distance move easier by:
Decluttering and downsizing. When you sell or donate furniture and other items you don't need, you can dramatically reduce your moving costs. It also makes packing and unpacking much easier. We recommend decluttering as early as possible to spread this difficult and time-consuming work out over several weeks or even months. You can pack as you declutter or take these on as separate tasks, whichever works better for you.
Planning. You may have heard the saying, "An ounce of prevention is worth a pound of cure." The same goes for long-distance moving. Take the time to plan ahead, making a list of every task that needs to be done. Create a timeline and a budget, and try to stick to these as closely as possible. Proper planning will help you avoid the serious problems and unnecessary expenses that can sometimes happen with long-distance moves.
Finding the right moving company. Choosing a moving company is an important decision, and you should feel comfortable with your choice based on your unique needs and concerns. That's why we offer a free estimate. This gives you the chance to get to know our company and our team. We'll be happy to answer your questions and offer tips and information that can help you along the way. Check out our reviews to hear from happy customers!
What Else Should I Know About Long-Distance Moving?
With so many "moving" parts, there's a lot to consider with a long-distance move. Depending on the distance and whether you're crossing state lines, it may take one to seven days for your belongings to arrive from the moving truck. You may also have to make arrangements for your pets to be taken care of and for your children to attend new schools. Another thing to consider is packing luggage and essentials in your vehicle with you, so you have everything you need during your trip.
Interested in learning even more about long-distance moving? Check out our blogs:
Our Temecula Long-Distance Movers Are Here to Help
One of the great things about AQMS is that you can customize our moving services. You can have us pack just one room or your entire home. You can do all the packing yourself and have our moving team simply load, transport, and unload your belongings. You can choose the level of insurance you want on your belongings during transport. Your final cost will be based on what items actually end up in the truck, so you only pay for what we move. We're licensed and insured, so you know you're covered.
Get a free estimate for your long-distance move today by contacting us online or by calling (661) 622-2636.
Customer Reviews
Check Out What All the Buzz Is About!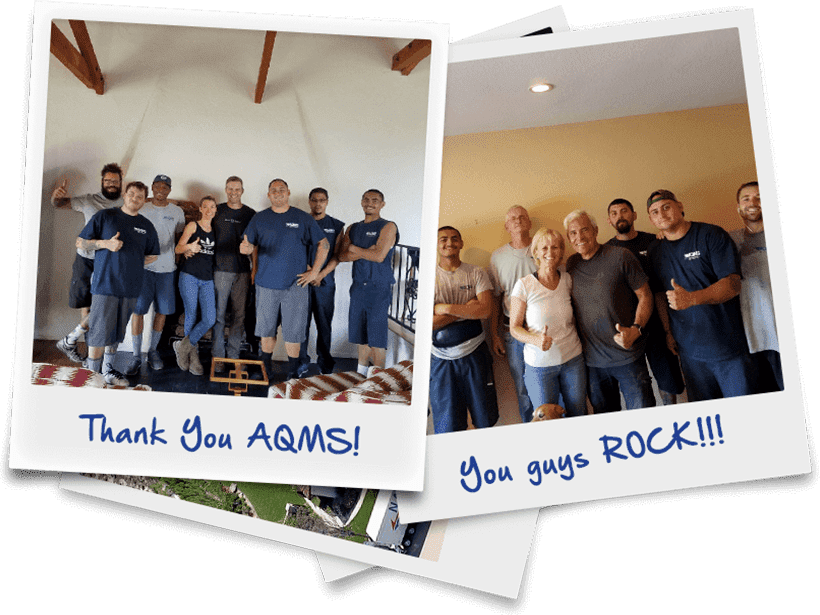 It all went without a hitch on both ends. - Laura S.

My move was a stress-free. - Alina B.

Your company is very lucky to have such hard-working dedicated employees. - Judi N.

We were extremely happy with the way everything went. - Danielle & Kris F.

Highly recommended all around. - Don T.