Storage Services in Southern California
When You Need Clean, Secure & Reliable Units
Running out of space at home? Need a place to store items during a local or long-distance move? No matter why you need extra storage, Affordable Quality Moving and Storage has a solution for you. We provide secure storage units for residential and commercial customers on a long- and short-term basis. Just tell us what your needs are, and we will meet them.
You can start storing your belongings ASAP! Call (661) 622-2636 to discuss your needs. We proudly service Temecula, Burbank, San Diego, Santa Clarita, and the surrounding areas.
Why Storage? The Top Reasons People Use Storage Units
If you're wondering why people use storage units and whether you might need one, we've included some of the most common reasons people store their belongings in facilities instead of their garages, attics, or other areas of their homes.
Southern Californians often rent storage units because:
They're moving and want to temporarily store belongings while they declutter and downsize or stage their home for sale. Gaps in escrow closing and move-in dates can also make storage necessary.
They're decluttering and have belongings they want to keep but do not want in their homes. Whether they're storing items while decluttering with the intention of eventually emptying the storage unit or want to permanently keep seasonal items or other things, storage might be the answer they've been looking for.
They need to store a loved one's belongings, but they don't have the space. This often arises for families that care for an elderly loved one or who have lost a family member. They may need storage while they figure out what to do.
They're looking for secure storage for vehicles like motorcycles, cars, RVs, or golf carts.
They're renovating and need a place to store everything until the project is complete.
They're college students in need of storage while they're out of school for the summer.
They need a place to keep and organize business inventory.
Finding safe and secure storage shouldn't be difficult, but sometimes it's tough to find a company you can trust. At Affordable Quality Moving and Storage, we've been helping people and businesses across Southern California with their storage needs for more than 25 years. Our customers trust us to deliver the best service and to keep their belongings safe, and that's precisely what we do.
For more tips and insight on storage, check out our blogs!
Why AQMS Is the Right Choice
You'll find that there are plenty of options available to you for storing your belongings. No one can match the affordability and security of AQMS. There's a reason why we're backed by so many positive customer reviews.
Some of the reasons why customers love us:
We have 24-hour internal surveillance.
We have modern, conveniently located warehouses.
We have clean, secure, and reliable units.
We have competitively priced storage cartons available.
We have sanitized, private vaults.
To learn more about how we strive to create the best customer experience, schedule a free estimate today.
Southern California's Full-Service Moving Company
We understand how valuable peace of mind can be when you are leaving your valuables somewhere. We promise to keep our facilities clean and pest-free, and we will always give you access to your unit so that you can grab anything you need, whenever you may need it. In addition to storage solutions, AQMS has offered complete moving services to Southern California since 1996. When you need licensed and insured movers to help you pack up your belongings into a new home, storage unit, or commercial space, we are the team to trust.
Our storage units are built to withstand damage so that you never have to question if your valuables are secure. Learn more by calling (661) 622-2636 now!
Customer Reviews
Check Out What All the Buzz Is About!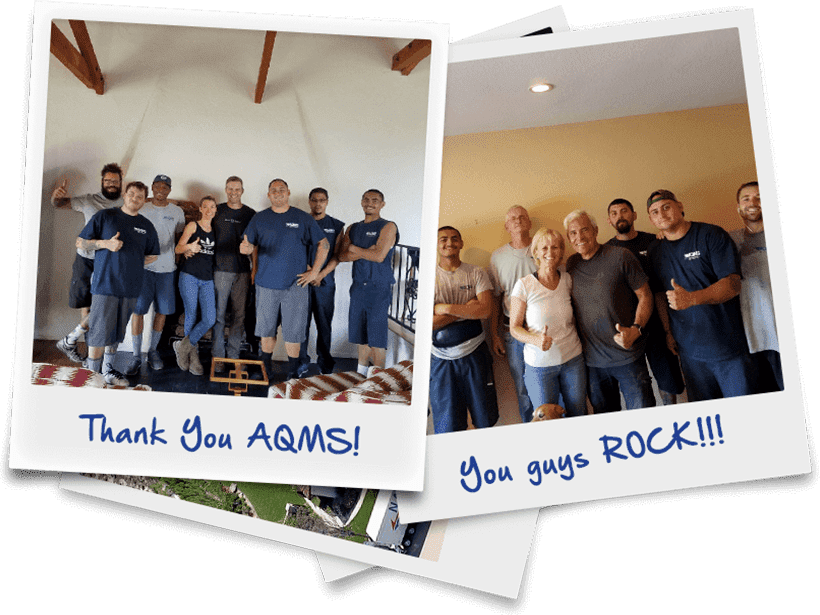 It all went without a hitch on both ends. - Laura S.

My move was a stress-free. - Alina B.

Your company is very lucky to have such hard-working dedicated employees. - Judi N.

We were extremely happy with the way everything went. - Danielle & Kris F.

Highly recommended all around. - Don T.