Southern California Packing & Unpacking Services
Our Moving Company Does It All to Reduce Your Stress
Since 1996, Affordable Quality Moving and Storage has developed the best techniques and practices to make your move a stress-free process. This includes packing and unpacking services because, let's face it, you have enough to worry about.
When you leave the packing and unpacking to us, you're not only saving yourself a mountain of time and hassle—you are securing peace of mind. Even if you consider yourself a seasoned packer, our team does this work day in and day out. We've learned how to pack up even the most fragile items effectively, and we know how to handle the unpacking efficiently.
Why Choose Professionals for Your Packing & Unpacking?
If you're thinking about whether to hire professionals to handle all the packing and unpacking for you, there are a few issues you should consider. Some people prefer to pack and unpack on their own, spreading it out over time and handling everything themselves. Others want to save the time, the headache, and the hard work of packing and unpacking on top of everything else they have to take care of for their move.
Here are a few of the reasons people choose our Southern California packing and unpacking services:
Save time and headache. Packing is the most time-consuming part of a move. Unpacking goes slightly faster, but it takes a lot of time as well. With professional packers to handle it for you, you can spend your time on other important things.
Feel confident that everything is packed properly. Delicate, bulky, and downright awkward items can be tricky to pack. With a professional packing service, you can sit back and feel confident with the knowledge that everything will be packed the right way – protecting your belongings during transit to your new home or office.
Save the hassle of purchasing packing materials. When you pack on your own, you might overlook the fact that you'll need to purchase packing supplies. The time it takes to find these items (and hope that they're the right ones) not to mention the expense can make this one of the annoying parts of packing on your own.
Save yourself the physical labor. Packing and unpacking can be physically draining. Instead of worrying about packing and moving heavy boxes for hours and hours, you can leave it to our pros.
At Affordable Quality Moving and Storage, we offer free estimates to talk about your packing, unpacking, moving, and storage needs. We will take the time to talk to you about what you need, and our services are customizable. We can pack and unpack everything for you, just one room, or even individual items. Because we discuss pricing upfront, there are no hidden costs or unexpected fees to worry about.
How We Help
We've spent years honing our packing skills, but we also understand that some customers want to take a more hands-on approach and provide input into the packing process. Customer service is at the heart of our business, and we will take the time to understand your specifications and approach the job accordingly.
Some of the items we can pack and unpack:
Plates, dishes, and silverware
Workout equipment
Glass and other fragile objects
Appliances
Vacuums and cleaning supplies
Whatever Your Needs, We Have the Service
It doesn't matter if you're moving down the street, out of the state, or out of the country. Knowing that your belongings have been properly packed can make all the difference when it comes to your peace of mind. As a trusted Southern California moving company, AQMS is prepared to handle all of the details so that you don't have to.
Lean on our decades of experience and allow us to handle all of your packing and unpacking needs throughout San Diego, Burbank, Santa Clarita, Temecula, and surrounding SoCal!
Customer Reviews
Check Out What All the Buzz Is About!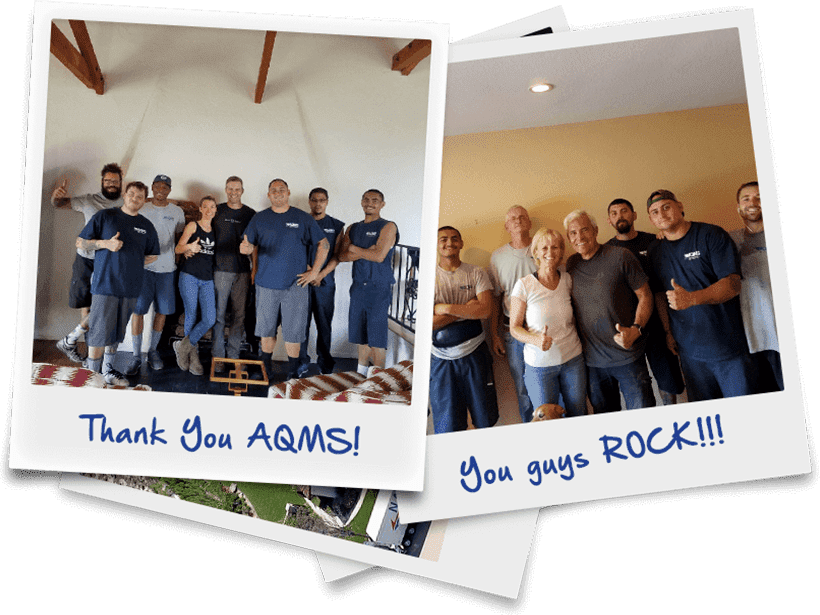 It all went without a hitch on both ends. - Laura S.

My move was a stress-free. - Alina B.

Your company is very lucky to have such hard-working dedicated employees. - Judi N.

We were extremely happy with the way everything went. - Danielle & Kris F.

Highly recommended all around. - Don T.