Southern California Commercial Movers
Fast & Efficient Moving Services to Protect Your Bottom Line
When it comes to commercial moves, you need a company that will prioritize getting you settled quickly and that has the expertise to move any special or valuable equipment that your business uses. Moving businesses is rarely a straightforward task, but Affordable Quality Moving and Storage brings over 25 years of experience to each job. We can help you well before moving day, giving you helpful tips and making sure that every last detail has been thought through. We also offer packing and unpacking services to make the process less stressful.
We listen to the unique needs of your business and create a comprehensive moving plan to match. Call (661) 622-2636 or fill out our contact form to get started.
Facing the Challenges of Commercial Moves in Southern California
Commercial moves require special attention and far more planning than residential moves. There are often more heavy, bulky, and fragile items, plus customers and employees to consider. You'll want to make sure your move is handled as efficiently as possible to avoid downtime and lost business.
It's also important to consider the following if you're dealing with a commercial move:
It may take special equipment, tools, and additional manpower to handle a commercial move
Sensitive materials like employee records and financial documents may require special handling
You may need to consider an overnight or weekend move to avoid business interruptions
It's important to make sure employees are informed and involved in the move
Customers and vendors will need to be informed of the move well ahead of time
Fortunately, Affordable Quality Moving and Storage has extensive experience with commercial moving and has the tools, trucks, and equipment to get the job done right. Our Southern California commercial movers can handle all the packing and unpacking for you, can offer storage solutions if you need them, and even offer free estimates to help you budget your move. From start to finish, we'll be with you to make sure the entire process is as stress-free as possible.
Serving Restaurants, Retail Stores & More
Whether you are moving locally or to another state, AQMS is committed to making the entire process as seamless as possible. Over the years, we have helped companies of all types relocate. You may have electronics, machinery, large appliances, or other valuable and unique assets that you need to have safely moved. We've seen it all, and we will go over our plan for these special items during your free estimate.
Some of the ways we help secure your peace of mind:
Meticulous planning from commercial moving experts
Specialized packing for phone systems and computers
Disassembly and reassembly of cubicles, workstations, or other furniture
Fleet of modern trucks equipped with everything needed for a successful move
It takes a lot to pull off a commercial move without a hitch, but our team at Affordable Quality Moving and Storage is up to the challenge. We work closely with our customers to make sure we understand and can address their needs and concerns related to their move, leaving nothing to chance and ensuring a successful result.
Why Choose AQMS?
At the end of the day, we understand how important it is for businesses to lose as little time as possible during the relocation process. Our time-tested techniques and team of licensed commercial movers enable us to deliver services that earn us 5-star reviews and allow our customers to resume day-to-day operations quickly.
How we have earned our solid reputation:
We offer competitive prices and free estimates.
We always respond promptly to your questions.
We offer service around your schedule—including after hours and weekends.
We can pack and unpack all of your equipment.
Request your free estimate to see how our movers in San Diego, Temecula, Santa Clarita, Burbank, and the surrounding areas, can help you pull off a smooth, easy move .
With our upfront estimates, you'll never be hit with unexpected fees. Let AQMS handle your commercial move: (661) 622-2636.
Customer Reviews
Check Out What All the Buzz Is About!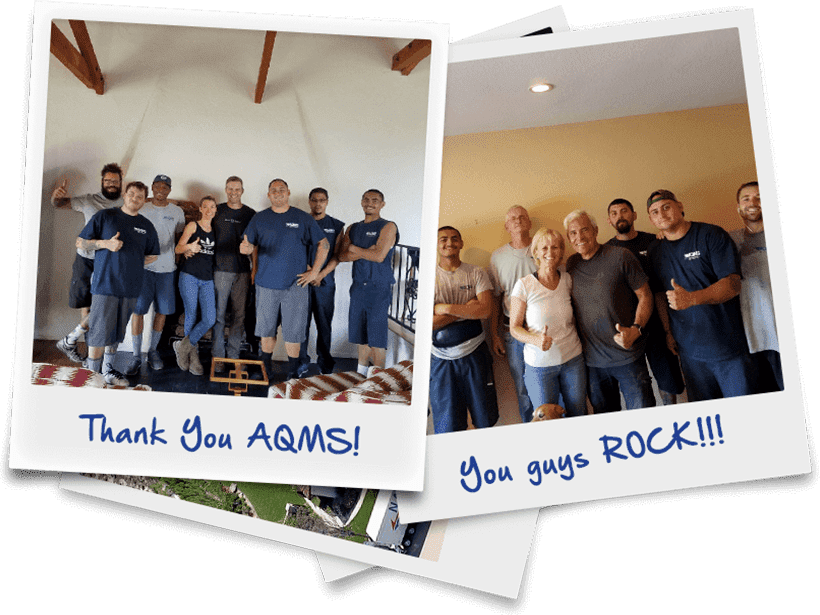 It all went without a hitch on both ends. - Laura S.

My move was a stress-free. - Alina B.

Your company is very lucky to have such hard-working dedicated employees. - Judi N.

We were extremely happy with the way everything went. - Danielle & Kris F.

Highly recommended all around. - Don T.