Santa Clarita Moving Services
We Handle Local, Long-Distance & International Moves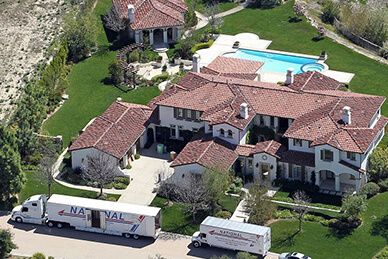 Moving is tough. Even thinking about having to move can be extremely stressful for some. The good news is? It doesn't have to be. Affordable Quality Moving & Storage can help you move down the street or across the country, making it a seamless, stress-free process from start to finish. Burbank moving is what we do-we know how to get it done fast and efficiently.
We know that your belongings are important to you and realize you may be wary about having someone else handle your valuable and fragile items. We take our role as moving professionals very seriously. We prepare homes with carpet shield and wall protection, crate and pack fragile items, and make sure that both your old and new house are left in top condition.
Don't carry the burden of moving by yourself! Call (661) 622-2636 or use our online form for help from professional Santa Clarita movers.
How Is a Full-Service Moving Company Cost-Effective?
When someone is planning a long-distance move, they tend to assume it's less costly to pack items on their own, hire workers to load it up, and hire a shipping company to transport it. However, it's usually far more costly and stressful than hiring a full-service moving company.
Comparing the Costs
Recently, one of our recent clients called looking for a shipping company to move his belongings from California to Texas. His plan was to pack up, hire local muscle to load up his boxes, then use a shipping company to take it to his new place. He was then planning on unloading the shipping container by himself.
His plan sounded cheaper, but it also meant that he would need to pack up his entire house and disassemble furniture by himself. It also would require him to hire strangers to handle all of his belongings without any insurance or accountability and expose him to liability if any of those workers ended up getting hurt. Worst of all, it would require him to either hire more workers to unload the container...or work by himself for hours in the Texas heat.
Our client initially shut down the idea of using a full-service mover because he thought it would be too expensive, but once we explained what we provided, he learned that it was more affordable than other quotes he had received (and those other quotes didn't include as many services). He ended up booking our service once he discovered we were actually the better option.
AQMS Offers Full-Service Moving
Unlike other companies that simply transport, load and unload your personal belongings, our movers go above and beyond to ensure that your moving experience is as stress free as possible.
Our movers can:
Insure your belongings
Pad/shrink wrap delicate items
Pack all your belongings
Disassemble/reassemble furniture
Load your belongings
Transport your belongings
Unload and unpack at your new home
All our professional Santa Clarita movers are licensed, insured, and drive fully-loaded trucks throughout the country every day. When you put your valuable items in our hands, you can trust they will reach their destination safely.
The Stress-Free & Affordable Way to Move
Not only can hiring a moving service be more affordable than doing it yourself, but it can also relieve you from all the stress of moving. Relocating even a short distance away is labor-intensive and potentially emotional, especially if you're on your own. We offer free in-home estimates and never tack on hidden fees. We pride ourselves on building a customer-oriented business, and we do everything we can to make your moving experience as stress-free as possible.
Make life a little easier and call (661) 622-2636 for a fast, safe, and stress-free move in SCV.
No Job Is Too Big for Our Professionals
Starting a life in a new place is hard enough without worrying how you get there. You should be able to rely on your movers to carry some of the burden. Our job is to help people through a stressful situation. We are qualified to handle even the most difficult moves. We even offer storage and packing services!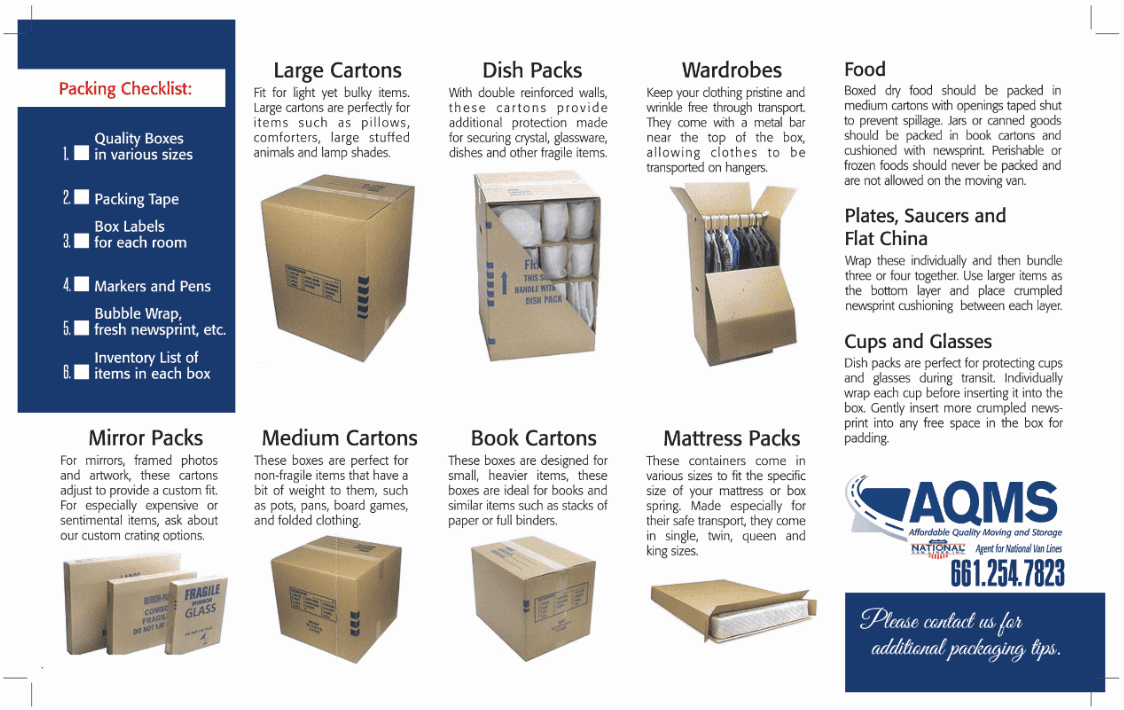 AQMS can assist with all of your moving needs, including:
Call
(661) 622-2636

to Schedule Moving Service in Santa Clarita!

We've been in business for a couple of decades now. Our movers in Santa Clarita can only survive that long by providing customers with high quality work and reliable service. We are extremely proud of our customer satisfaction and look forward to giving you a similar experience!

Call (661) 622-2636 and tell us about your upcoming move.
Customer Reviews
Check Out What All The Buzz Is About!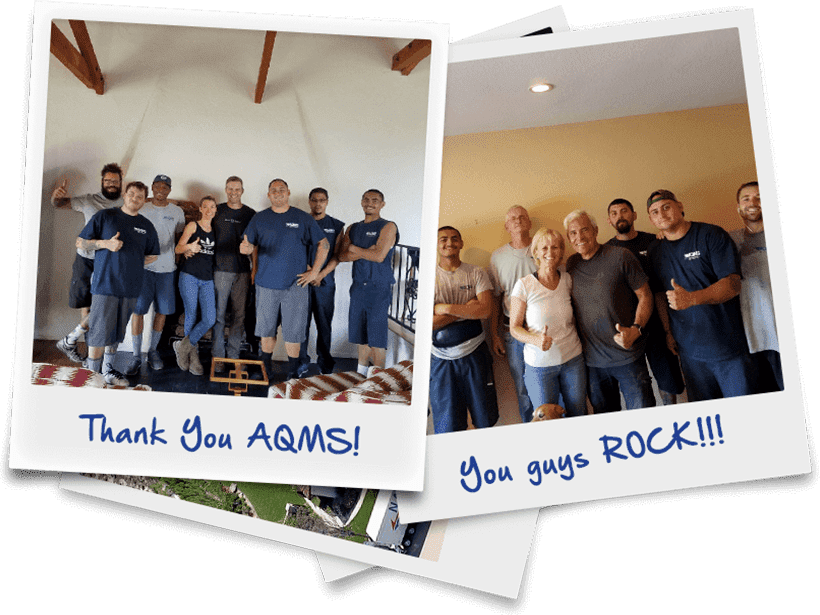 A Wonderful Experience - Ken W.

Very pleased with the whole experience and would definitely recommend.

The guys were on time. They were clean, handled my furniture carefully, and finished quickly. My belongings arrived in TX in the time frame they promised. It was put into a storage facility and everything arrived safely with no dam

" - Diane C.

I would highly recommend their moving services. - Jim D.

We highly recommend them for your next local or out of State move!!! - David & Kathy

I could not have asked for a better moving team! - Margaret