Local Movers in Southern California
Spare Yourself the Stress & Hire Professionals
Local moves—especially in Southern California—can be a serious undertaking. Even if you are moving a short distance, trying to navigate a large moving truck through busy streets can be a headache at best—and, at worst, a costly nightmare. As a family-owned moving company serving Temecula, Santa Clarita, San Diego, Burbank, and the surrounding areas since 1996, you can trust our experience and count on us to get you settled into your new place quickly and affordably.
What AQMS has to offer:
Clean trucks
The right equipment for the job
Competitive pricing
Licensed and insured movers
Free in-home estimates
Combining Quality Service with Affordable Prices
Our licensed and insured movers know the ins and outs of SoCal's famously congested streets, and they can safely maneuver heavily loaded trucks with ease. When you need a trustworthy team to handle your local move, turn to Affordable Quality Moving and Storage. We believe in being honest and transparent with our prices, which is why we offer free in-home estimates and never hit you with unexpected fees. Make your life easier by hiring AQMS to handle your local move. Our award-winning, full-service company is here to reduce your stress! Call (661) 622-2636 today.
What Distance Is Considered a Local Move?
Generally, the distance for a local move may be about 50 miles. It also would not cross state lines. A local move in Southern California will usually take only one day, depending on the exact distance and the size of the move. Larger local moves will typically take longer than smaller moves. If you want to find out if your move is considered local or long-distance, we welcome you to reach out to our team. Our local Southern California movers can talk to you about cost, timing, and more!
Local Moves in Southern California
With the weather, the food, the culture, and the diversity, it's no wonder that many people choose to stay in Southern California. However, sometimes situations come up that make a local move the right choice for an individual, a business, or a family. A local move may make sense if you are purchasing your first home, if you are getting a larger house for your growing family, if you have equity in your home and want to purchase a bigger place, or if you need to downsize because your grown children have left the nest. Moving down the street or a few miles away may give you the opportunity to live in a home that is better suited for your needs and financial situation.
Moving, even locally, can be a lot of work. Most people dread moving, but there is a lot of excitement and opportunity to consider as well. Finding the right local moving company can help relieve the stress you're dealing with because you'll know that the heavy lifting will be under control. Our local moving services are also fully customizable, meaning you can pick and choose what we do for you. You may want our professional packers to handle all the packing and unpacking for you, may want help with a few specific items, or may want to handle the packing yourself and trust the loading and transportation to our movers. You may even need storage solutions. Whatever your needs, you can rest assured that our local movers have the know-how and equipment to help.
Looking for more information on local moves in Southern California? Check out our blogs:
Start Preparing for Your Local Move Today
As a full-service local moving company in Southern California, we've thought of everything you might need and are here to offer advice and services to make your moving day go off without a hitch.
Some steps to take before moving day:
Decide what items you would like to sell or discard.
Plan where you'll want furniture to be in your new home.
Put aside fragile or valuable items you want your movers to take special care of.
Consider renting a storage unit if you won't have room for larger items you wish to keep.
Update your address with USPS and any delivery subscriptions.
If you have more questions about what moving day will look like and how best to prepare, we would be happy to discuss your needs during a free in-home estimate. We have perfected the art of local moving over the past 25+ years, and we are ready to help take on bigger burdens that come with this process. Let AQMS go the distance for you!
Fill out our contact form or call (661) 622-2636 to request your free in-home estimate!
Customer Reviews
Check Out What All the Buzz Is About!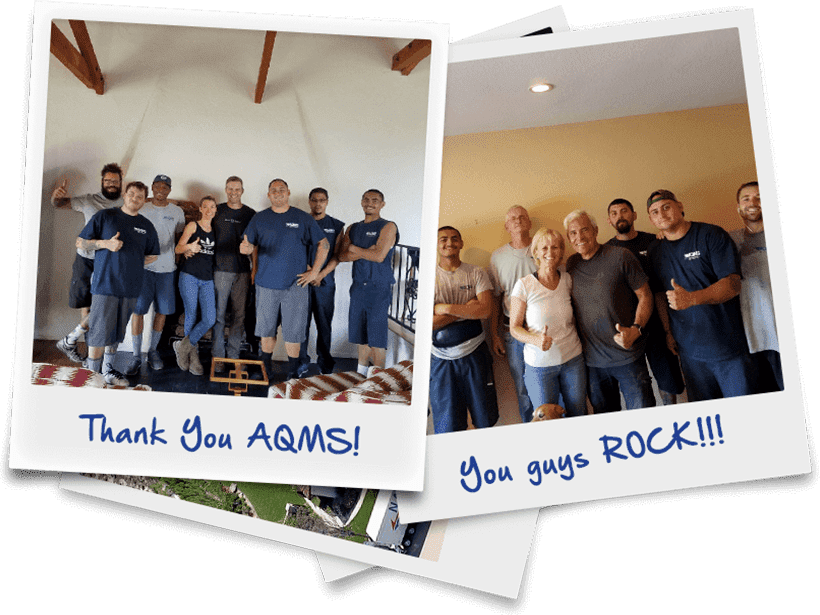 It all went without a hitch on both ends. - Laura S.

My move was a stress-free. - Alina B.

Your company is very lucky to have such hard-working dedicated employees. - Judi N.

We were extremely happy with the way everything went. - Danielle & Kris F.

Highly recommended all around. - Don T.