Local Movers in Burbank, CA
Movers Serving Burbank, Los Angeles & Surrounding Areas
At Affordable Quality Moving and Storage, our team has a reputation for being a full-service company that combines quality service with affordable prices. We strive to meet the growing and unique needs of customers by continually adapting and developing the most efficient strategies. As a family owned and operated moving company, our Burbank local movers are honest and transparent, providing free in-home estimates and never adding on hidden fees.
If you're looking for local movers in Burbank, Affordable Quality Moving and Storage is here for you.
What You Get When You Call AQMS:
Clean trucks and fully trained movers
Licensed and insured team
Right equipment for the job
Detailed and attentive services
Excellent customer service
Competitive pricing
Moving across town can quickly turn into a nightmare without the right moving company on the job. Ready to get the peace of mind and assurance you need during this stressful time?
Call Affordable Quality Moving and Storage at (818) 960-1988.
Quick Tips for Your Local Move
Even if you've moved a dozen times before, each move can be different-and uniquely stressful. Check out the list of quick tips for your move below. Make sure to do the following when preparing for a local move:
Sort, purge, and organize important belongings
Get measures of your new space-make sure your things can fit
Find a mover you trust and make sure to get an accurate quote
Start the packing process or get organized if your mover is handling it
Make sure you separate any valuables you don't want to risk getting lost
Go to the local post office to fill out a change-of-address form (or save time and do it online)
Alter any important parties (banks, HR department, credit card companies, etc.) of the change
Take inventory before and after the move of all items to make sure nothing is missing
Moving Into an Apartment in the L.A. Area? Consider These Things.
You signed the lease, and you are excited to move into your new Los Angeles apartment. However, you have yet to think through the process of actually moving your items to your new home.
Los Angeles is a complicated city, and it's important to prepare for a complicated move.
Los Angeles is busy no matter the day.
Typically, moving during weekdays is less of a hassle than moving in on weekends. However, due to the vibrancy of the Los Angeles lifestyle, the city is busy on any given day. This means you can expect a lot of traffic and a fight for parking spots near your new home. Be prepared to walk with your things down the streets of L.A. if you aren't much of a planner.
You can rent curbsides in Los Angeles.
Some apartment complexes have their own parking lots, but even if you could use those spots to move in, it is unlikely that they will be right next to the entrance of your new apartment. For this reason, you can reach out to city and obtain a curbside permit. This permit allows anyone to buy a portion of curbside for a dedicated amount of time. There are a lot of logistics that go into obtaining a permit. While they can be expensive for just the luxury of being closer to your apartment building, they are better than walking four blocks to drop off your things.
Not all apartments in Los Angeles have an elevator.
You may think your move will be simple due to a possible elevator in your new apartment building, but you need to make sure that an elevator actually exists. In addition to this, some elevators in Los Angeles apartments must be "signed for." This means that you must tell the front desk worker at the apartment about your move-in date. You will have to give them a time and they will block out the elevator just for you. However, apartments in Los Angeles that were built without an elevator have no obligation to install one. This means you may be stuck moving into a third-floor apartment with no elevator access. If this is the case, you need to either: have a lot of strong friends who can help you move or you need to hire professional moving services to make sure you don't hurt yourself or your items while moving into your new home.
Apartment hallways and door positions can make furniture moves impossible.
While the space you are renting may be a great spot, the layout of the apartment may make it extremely difficult to put in your new furnishings. TVs, beds, couches, and drawers can all make moving into a new apartment a nightmare. Figuring out how to force your items to fit in these spaces can take extra time and energy that you may not have.
Why Hire Professional L.A. Movers
Rather than preparing for all of these hazards and more, why not treat yourself to a professional moving service that will take care of the logistics for you? With over 20 years of service in the Los Angeles area, Affordable Quality Moving Services will make your move a breeze. Our team will efficiently take your items and put them where they need to be. With AQMS, you are free to concentrate on making your apartment a home.
call for (818) 960-1988 a free estimate!
Call Our Award-Winning Burbank Moving Company
We're not your average moving company. We've been recognized time and time again for our high-quality moving services.
Check out just a few of our awards and recognition below:
A+ Better Business Bureau rating
2011-2014 Readers Favorite Choice - Moving Company (Los Angeles Daily News)
2009, 2010, 2013, 2014, 2015 & 2016 Mover of the Year (Santa Clarita Signal)
2012 Family Owned Business of the Year nominee - SCV Leadership Awards (Santa Clarita Chamber of Commerce)
When planning your local move, make sure you find the right moving company to handle the job. At AQMS, our local movers in Burbank understand our customers' needs and expectations, going the distance to ensure they are completely happy.
For help with a local move, be sure to contact our office at (818) 960-1988.
Customer Reviews
Check Out What All the Buzz Is About!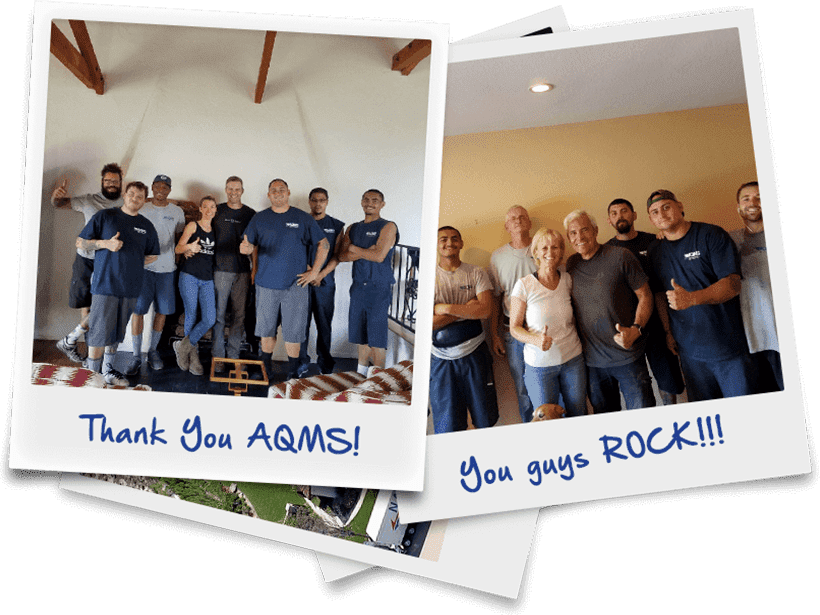 It all went without a hitch on both ends. - Laura S.

My move was a stress-free. - Alina B.

Your company is very lucky to have such hard-working dedicated employees. - Judi N.

We were extremely happy with the way everything went. - Danielle & Kris F.

Highly recommended all around. - Don T.