International Movers in Burbank
Serving Customers Throughout Los Angeles
Moving to any location is no small task, but when a new job, family ties, or something new calls you across borders, your move is going to be large undertaking. Getting a visa, passport, and other international papers is a hassle, figuring out how to prepare yourself and your family for a move can be a bother, and the fine details of an international move might be the straw that breaks the camel's back. Our international movers at Affordable Quality Moving and Storage can take the logistics of your move off your plate so you can focus on the other parts of your life. Our Burbank team can ensure that you have acquired the correct documents for your move, estimate the cost of moving your things overseas, and help to transport your items to your new home.
Call (818) 960-1988 for international moving services in or out of Los Angeles.
Must-Have Documents for International Moves
There are a million things to do when organizing an international move—yet there are always important things we forget to do. A task you won't want to forget is organizing important documentation for your relocation. These documents are essential to gain entry and establish residency in your new home country.
Documentation that you should carry with you when you move (and keep safe) are the following:
Passports
Birth certificates/international driving permits
Health insurance cards
Marriage certificates
Wills
Work permits
Divorce papers and custody agreements
Legal documents related to adoptions
Immunization records
Key medical records
Proof of relationship to your children
Prescription medications
Insurance policy information
Bank account, credit card, and investment account numbers
Have these organized ahead of time to prevent any of them from getting misplaced while you pack.
Other Documentation
Aside from the documents listed above, you'll want to ensure you have contact information for the nearest Embassy or Consulate. It is helpful to speak with an official at your destination country's consular office to get more information about what you'll need at every step of your move. You will also want to ensure that you have your visa situation settled well before your departure date. If you plan on traveling with pets, then it is important to take their veterinary International Health Certificate and their pet vaccination records.
If you need assistance moving your belongings internationally, our long-distance movers can make your relocation as smooth and enjoyable as possible. Contact our international movers today!
Tips to Save Money When Moving Abroad
Although relocating to a new country is exciting, it can also get expensive.
Thankfully, the team at Affordable Quality Moving and Storage has put together tips to cut moving costs.
#1: Plan Ahead
Giving yourself time to plan ahead and prepare for your relocation will save you a lot of money. If you need to obtain visas, work permits, or pet passports, they can get more expensive the longer you wait. You will be paying premium prices for fast-tracked visa applications and expedited shipments. Whether it is shipping your belongings or obtaining documents, the earlier you do so, the more money you will save.
#2: Buy Flights at the Right Time
Although planning ahead can save you money in almost every other moving expense, it isn't always true for flight tickets. Flight prices fluctuate constantly, and it's best to purchase them at a specific time, instead of purchasing them 'as soon as possible.' Skyscanner estimates that seven weeks in advance is the best time to buy tickets for short-haul flights and eighteen weeks for long-haul flights.
Airlines claim that Sundays are the best days of the week to book your plane ticket. However, we recommend keeping a close eye on the prices and book your flight at a time when there aren't too many tourists heading to your new destination. Sites like Jack's Flight Club are great at giving you email alerts when flights are cheap.
#3: Sell the Stuff You Don't Need
It's time to assess the value of your belongings and identify what you will be taking with you to your new home. If you're moving to a warmer country, you won't need all those winter coats, and if you're moving to a smaller location, you will want to get rid of some furniture.
A great way to determine what items to take with you is by separating your belongings into three categories:
items you want to keep,
items you maybe want to keep, and
items you will get rid of.
Once you identify what items you can't live without, it will be easier to get rid of other items that aren't as valuable to you. Once you have decided what belongings you will leave behind, you can sell them on Craigslist or donate them. You can make extra money by selling the items you won't be taking with you to your new home, and the less you bring, the cheaper your shipments will be.
#4: Ship Your Items with Affordable Quality Moving & Storage!
Packing and shipping your items can be overwhelming and expensive, but thankfully, Affordable Quality Moving & Storage offers affordable services that relieve all the stress of moving. Our team of experts can help you with all the details involved in your international move. Our team goes above and beyond to help you with other aspects of your move. When you choose AQMS, you can have peace of mind, knowing you'll be well-prepared for your moving process.
Our Los Angeles International Moving Services Make the Difference
With more than two decades of moving experience, our team of Burbank international movers at Affordable Quality Moving and Storage has mastered all the moving techniques a person will need when dealing with intercontinental moving. There are a lot of variables in such moves, but our team takes care of you and your family through time-tested practices.
At Affordable Quality Moving and Storage, we can provide you and your family with:
Movers who go the extra mile
Techniques that will secure your items
Help in preparing for the international logistics you will face
Transparency from start to finish
Free price estimates that provide reasonable rates
Executing an international move requires time, energy, and resources. Luckily, our team has an abundance of all three! We can help you pack, send you on your way, and even help you set up your utilities in your new home. When you pick AQMS, you can rest assured that your new move is going to be smooth and will be as painless and stress-free as possible!
Start your move by calling (818) 960-1988! We come to your home and perform free estimates using your personal items.
Recent Review
"Thank you for an easy and trouble-free move. Justin and Rene worked hard, were friendly and made a stressful situation much easier."
-

Doug
Customer Reviews
Check Out What All the Buzz Is About!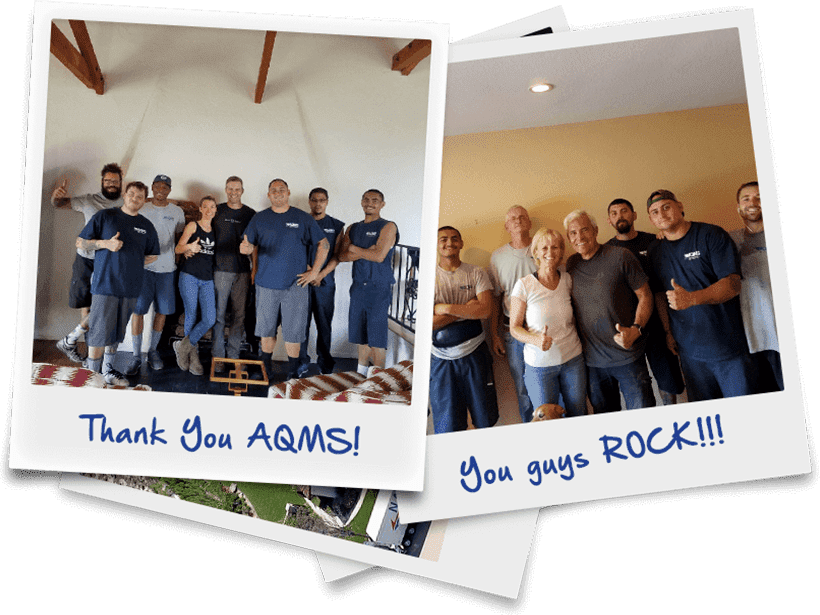 It all went without a hitch on both ends. - Laura S.

My move was a stress-free. - Alina B.

Your company is very lucky to have such hard-working dedicated employees. - Judi N.

We were extremely happy with the way everything went. - Danielle & Kris F.

Highly recommended all around. - Don T.