Southern California Office Moving Services
Our Experts Are Up for the Task
While other moving companies may dread a complicated job like moving an entire office, the team at Affordable Quality Moving and Storage has the experience and attention to detail that allows us to carry out this service without a hitch. As a Southern California moving company that has served Santa Clarita, Burbank, Temecula, San Diego, and the surrounding areas since 1996, we know how to streamline even the largest office relocations and ensure that no time is wasted in getting your business back up and running in its new space.
Call (661) 622-2636 or fill out our contact form. We'll put the needs of your business first.
Planning Your Southern California Office Move
In some ways, moving to a new office can be far more complex than moving into a new home. After all, you'll have more to deal with than personal belongings and furniture. You'll have to think about equipment, computers, documents, and everything else that needs to get set up in the new space. You will also have to think about how the move will affect employees and customers. Careful planning and an early start can make your Southern California office successful!
As a SoCal moving company that's handled countless office moves, we can offer the following tips:
Get started early, even 6 months to a year in advance.
Keep all documents and paperwork related to the move in one place.
Set a budget and stick to it.
Talk to your employees about the move.
Announce your move to your customers.
Be clear about the reasons for your office move, particularly the benefits.
Create a timeline of every aspect of the move, from start to finish.
Create a strategy to handle workloads before, during, and immediately after the move.
Map out your current and future office layouts so everything can be moved correctly.
Find a qualified office moving company to do the heavy lifting for you.
In addition to our standard moving services, our team at Affordable Quality Moving and Storage can handle all the packing and unpacking for your office move. We also offer storage services to keep your company property safe and secure. From moving furniture to electronics and documents, our expert movers can handle every aspect of your office move so you can focus on keeping the business running and your employees and customers happy.
We've Thought of It All
AQMS understands that when you are choosing a moving company to handle your office relocation, you are looking for a team that provides it all—customer service, speed, quality, and affordability. Our mission is to supply everything you are looking for. When you want service that will leave you with complete peace of mind, our Southern California office movers are here for you.
What you can expect when you hire our pros:
100% free and honest estimates
Packing and unpacking services
Protective measures taken at both locations so that nothing gets damaged
Special attention paid to fragile and expensive items
Weekend and after-hours availability
Put Your Office Equipment in Good Hands
Our office movers have experience moving computers and other machinery so that they stay safe and secure during transport. If you hire a team without this knowledge, you run the risk of damaging valuable company assets as well as losing time and money to replace ruined equipment. With our licensed, insured, and fully-trained team on the job, you can feel confident that your business will be able to hit the ground running in its new location as quickly as possible. We're passionate about providing a stress-free moving experience, and we are prepared to help commercial customers of all kinds, including restaurants, retail stores, and more. Reach out to AQMS today to discuss your needs!
Our movers promptly answer calls and pay close attention to every detail of your office move. Call (661) 622-2636!
Customer Reviews
Check Out What All the Buzz Is About!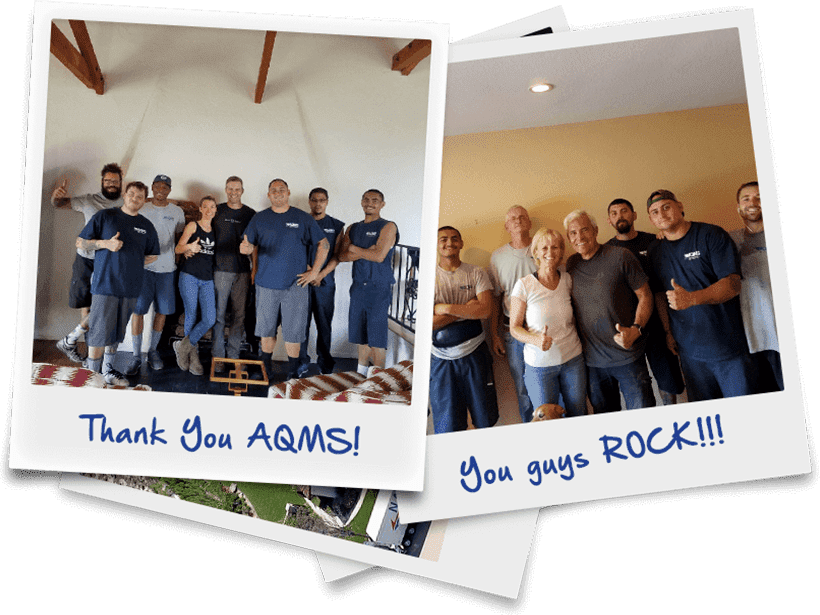 It all went without a hitch on both ends. - Laura S.

My move was a stress-free. - Alina B.

Your company is very lucky to have such hard-working dedicated employees. - Judi N.

We were extremely happy with the way everything went. - Danielle & Kris F.

Highly recommended all around. - Don T.