Santa Clarita Storage Services
Looking for "Storage Near Me"? Keep Your Things Safe with AQMS!
When you have valuable items that you are not yet ready to move into a new place, a storage facility is a great place to keep them safe. At Affordable Quality Moving and Storage, we have secure storage units in Santa Clarita. This warehouse facility is under 24-hour internal surveillance and outfitted with private vaults to keep your valuable items protected.
Need a secure place to store your valuables between moves? Call (661) 622-2636 to learn more!
What You Can (& Can't) Put in a Santa Clarita Storage Unit
People rent storage units for many different reasons. They may be moving and need a place to store their things so they can stage their house or while they are waiting for escrow to close. They may have taken in an elderly family member and need a place to store their belongings. They may own a business and want a safe place to keep inventory. They may simply want to keep seasonal items out of their homes. Whatever the reason, it's important to know what can and can't be kept in storage.
Generally speaking, the following items cannot be kept in a Santa Clarita storage unit:
Firearms and other weapons
Food and perishables
Living things (plants or animals)
Money
Hazardous materials
Priceless artwork or similar items
Heirlooms or other things you simply can't replace
You also can't live or sleep in a storage unit in Santa Clarita. Storage facilities are not built for people to live in them, and they are not zoned for residential use. Local and federal housing laws prohibit living in a storage unit. Storage is best for seasonal items, certain vehicles, furniture, business inventory, and similar items.
To learn more, check out our blogs: Amazing Organization Tips for Storage Units and Before Renting a Storage Unit: Things to Know & Questions to Ask. If you still have questions or are interested in our storage services, we welcome you to call for a free estimate. The benefit of choosing Affordable Quality Moving and Storage is that we can handle all of your storage and moving needs.
Clean & Secure Storage Units in Santa Clarita
At AQMS we sanitize our Santa Clarita storage facilities to keep out pests and clean out debris. After you rent a unit the only person who will go in and out of it is you, so you can rest assured everything will be just as you left it. You will be given convenient access to your unit so that you can easily grab anything you may need when you need it!
When you pick AQMS as your Santa Clarita storage facility, you can be sure that:
The units are clean.
The facility is internally monitored 24/7.
Private vaults are made available.
Our rates are affordable and competitive.
You will have easy access to your unit.
Call
(661) 622-2636

to Discuss Our Storage Services

If you need help packing your things to move into a new home or storage facility, we can help. AQMS is a full-service Santa Clarita moving company ready to help with any of your needs, whether you are moving to a new home or relocating your business. If you want to know where your valuables are at all times, now you can! Each of our trucks are outfitted with a GPS that you can tap into at any time. Night or day, rain or shine, you can track your orders in real-time.

Call our Santa Clarita storage service team at (661) 622-2636 to let us know what your needs are.
Customer Reviews
Check Out What All the Buzz Is About!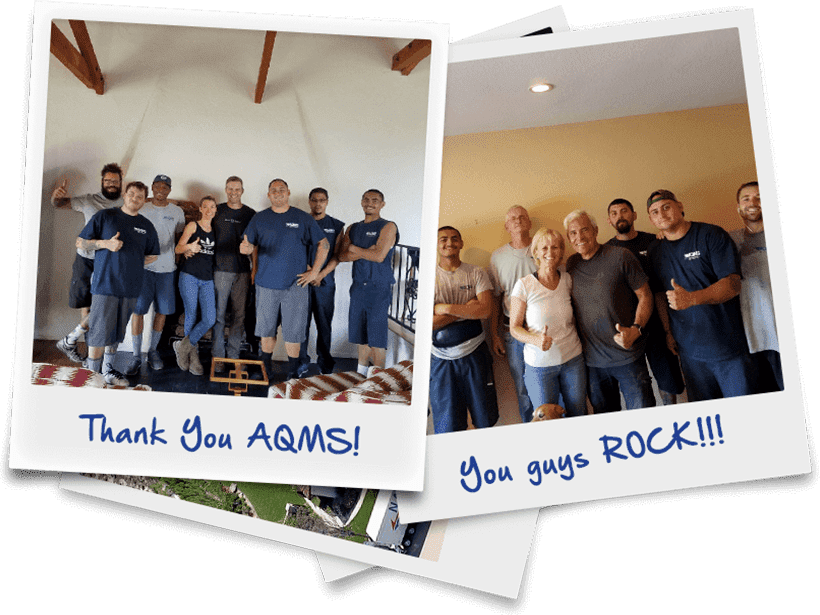 It all went without a hitch on both ends. - Laura S.

My move was a stress-free. - Alina B.

Your company is very lucky to have such hard-working dedicated employees. - Judi N.

We were extremely happy with the way everything went. - Danielle & Kris F.

Highly recommended all around. - Don T.