Out-of-State Movers in San Diego
Remove the Stress from Your Interstate Move with AQMS
Moving to another state is exciting, but it can also be stressful. There are countless tasks to coordinate and complete, with numerous moving parts that have to be artfully maneuvered to avoid costly problems and unnecessary headaches. Finding a moving company for your out-of-state move is one of the most important steps you'll need to take.
At Affordable Quality Moving and Storage, our goal is to make your interstate move as easy and stress-free as possible. Our San Diego out-of-state movers know every step it takes to safely and securely pack, transport, and unpack all of your belongings. We tailor our services to your needs and budget. Instead of giving you one more thing to worry about, we take some of the pressure off your shoulders. We provide complete moving, packing/unpacking, and storage services.
Call (661) 622-2636 for a free estimate with our San Diego interstate moving company. We've been moving individuals, families, and businesses for 25 years.
Making Your Out-of-State Move Easier
Any state-to-state move will be difficult. Planning ahead, however, can take a lot of the stress away by making sure nothing is missed and that most time-consuming tasks are properly managed. Our San Diego out-of-state movers can offer a few helpful tips to make your move easier.
How to Prepare to Move Out of State
---
Set a budget. Creating a budget prior to moving can help ease any financial stress down the line, making your out of state move smoother. Consider items such as traveling expanses, shipping of cars, meals, and the like when putting a budget together.
Start decluttering and packing as early as possible. Donate or sell anything you haven't used recently or that you won't need in your new state. Begin packing as soon as you can, starting with seasonal items or other things you won't need until after your move. Spreading this work out over time will make it much easier to tackle.
Write a detailed moving plan and stick to it. You can find out-of-state moving checklists online or can create your own. Write down every task to create a moving plan, and you'll pave the way for a less stressful move.
Finish all your packing before moving day. Waiting until the last minute is necessary for some items, like the food in your refrigerator. Make sure you pack everything else, and you'll save yourself a lot of headaches. On the day of your move, a lot will be going on. The last thing you want is to be packing while the truck is being loaded.
Change your utilities prior to your move. Transferring your utilities ahead of moving day will ensure everything, whether it be internet, cable, gas, or electricity, are ready to go when you move in. It's a good idea to reach out to your utility companies as soon as you have your new address to start the process.
Update your mailing address. Similar to your utilities, once you have your new address, you can go online and enter the date to have your mail being forwarding. This will help avoid any delays in receiving your mail once you've moved.
Free Estimate by Our San Diego Interstate Movers
At AQMS, we take pride in providing quality moving services throughout San Diego that make our customers' lives easier. Whether you want to take advantage of our packing and unpacking services to minimize your workload, or if you want standard moving services to suit your budget, you can count on our team to get it done right. We work fast and with care to protect your belongings through every step of your interstate move.
The first step will be a free estimate with one of our skilled moving professionals. We can walk your home or office room by room, taking note of everything that will need to be moved. We can talk to you about our packing and unpacking services, and we can answer any questions about our process and supplies used to transport bulky, delicate, and valuable items. We can then create an out-of-state moving estimate that is tailored to your precise needs.
Ready to get started? Give our San Diego out of state movers a call at (661) 622-2636 to schedule your free estimate with AQMS.
Customer Reviews
Check Out What All the Buzz Is About!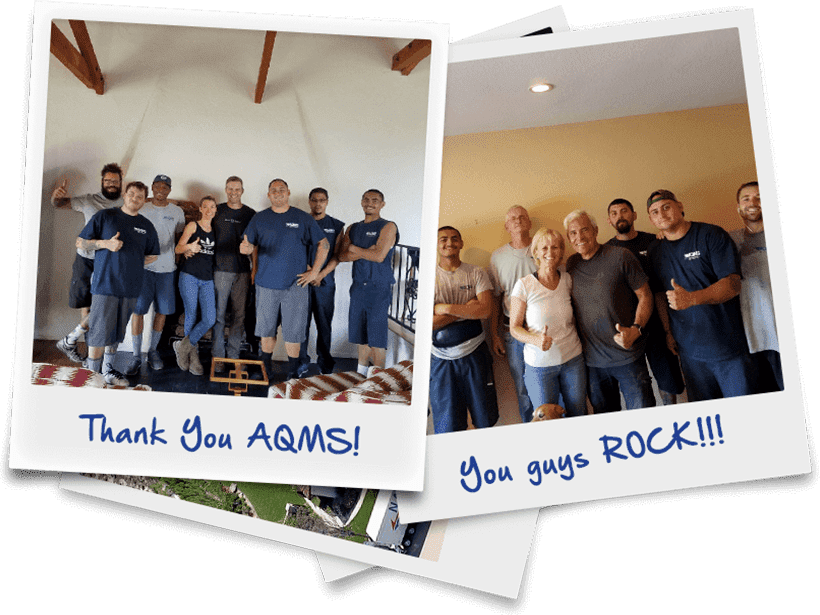 It all went without a hitch on both ends. - Laura S.

My move was a stress-free. - Alina B.

Your company is very lucky to have such hard-working dedicated employees. - Judi N.

We were extremely happy with the way everything went. - Danielle & Kris F.

Highly recommended all around. - Don T.