Long-Distance Moving Company
San Diego Movers You Can Trust
Any move can be challenging, but a long-distance move presents difficulties that can quickly become overwhelming. At Affordable Quality Moving and Storage, our San Diego movers can handle every aspect of your move with professionalism and care. Our long-distance moving services can be customized to fit your needs and budget. There are no hidden fees, and we're known for our accuracy in estimating the cost of each customer's move. We can even offer helpful tips on long-distance moves so you're fully prepared—not just for moving day, but for living in a new area.
Schedule your free estimate today by calling (661) 622-2636. Put your long-distance move in competent hands.
Affordable Long-Distance Moving Services
Moving to another county, state, or country? AQMS has you covered. Our San Diego moving company can take on any move. From a one-bedroom apartment to an entire office building, our team will work quickly and carefully to move your belongings. We even offer professional packing and unpacking services, complete with the supplies it takes to safely move bulky furniture and fragile items.
Our San Diego long-distance movers offer the following services:
A free estimate to determine what it will cost for your long-distance move.
Packing, from just a few items to your entire home or office.
Safely moving your belongings to another city, county, state, or country.
Storage for any items that you don't need right away.
Unpacking and putting your belongings away in your new home or office.
Every long-distance move is different. At AQMS, we'll talk to you about what you need and will tailor our services to cover as little or as much as you want to be done. During your free estimate, you'll even have the opportunity to get our experienced insight on handling complicated items, plus tips on what you can do to make your move as easy and stress-free as possible.
Quality Moving Services in San Diego & Beyond
Customers who've worked with our San Diego long-distance moving team are often surprised at how quickly we get the job done. They also take note of the care with which our movers handle items. We know these aren't just boxes to you. They're your life, your livelihood, your memories—the things you need to make your new home feel just right.
Schedule a Free Estimate for Your Long-Distance Move
Budgeting is an essential part of a move, particularly a long-distance one. You need to know what it's going to cost, without any unwanted surprises. When AQMS handles a long-distance move, we put together an estimate created based on a detailed walkthrough of your property. We talk to you about each room and item to determine an approximate cost, and we include a breakdown of any packing, unpacking, or storage services you want to use. We don't try to hide fees or add services at the last minute that you don't actually need. When moving day comes, you'll know what to expect.
Make your long-distance move easier with AQMS. Call our San Diego moving team at (661) 622-2636 for a free estimate!
Customer Reviews
Check Out What All the Buzz Is About!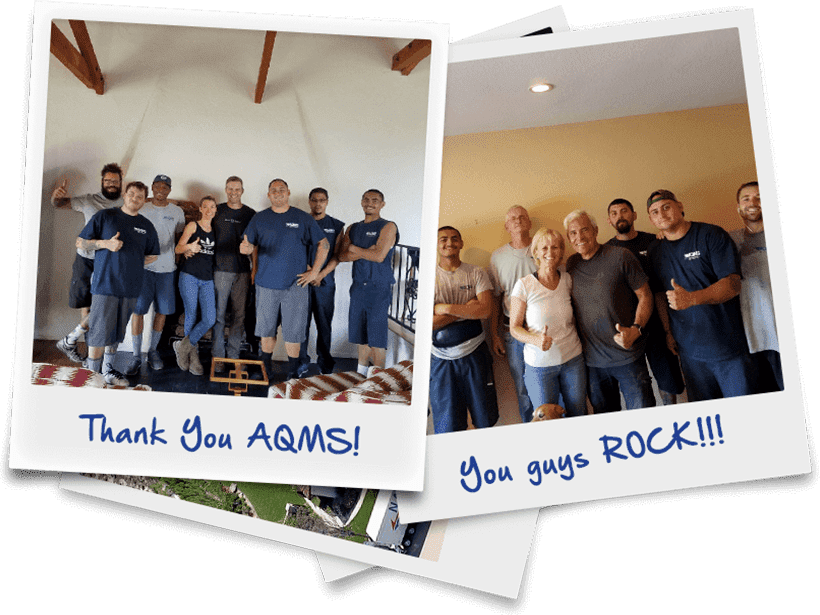 It all went without a hitch on both ends. - Laura S.

My move was a stress-free. - Alina B.

Your company is very lucky to have such hard-working dedicated employees. - Judi N.

We were extremely happy with the way everything went. - Danielle & Kris F.

Highly recommended all around. - Don T.