Valencia Moving Company
Trusted Local, Long-Distance & International Movers
Moving can be a nightmare, but it can also be one of the most exciting times of your life, with new opportunities and adventures ahead. At Affordable Quality Moving and Storage, our Valencia movers are here to make your moving experience as easy and stress-free as possible. Because we offer complete moving services, including packing and unpacking, transportation, and storage, you can be freed up to focus on other things. Our services are also customizable, meaning you can handle all the packing if you want to, can have us pack one or two rooms, or can have us take care of it all. Then, you can count on us to get your belongings from point A to point B safely.
Instead of worrying about your move and trying to do the heavy lifting on your own, trust the pros at Affordable Quality Moving and Storage. We even offer free estimates, so give us a call at (661) 622-2636 to get started!
Valencia Home & Office Moves
Our Valencia moving company has been serving customers throughout Southern California since 1996. We handle home and office moves for individuals, families, and businesses. Because we've been doing this for so long, we know what methods and supplies work best for packing and moving the most fragile or bulkiest items. We may be a local moving company with strong ties in the Valencia community, but we handle more than just local moves. We also handle long-distance, out-of-state, and international moves.
Every moving experience is different. Let us work to make yours the best by:
Offering a free estimate to see what it will take to accomplish your move.
Providing detailed options, you can use exactly the services you need.
Being friendly, reliable, and on time for your Valencia move.
Using the right equipment and vehicles for the job.
Taking care with your furniture and belongings.
When you choose Affordable Quality Moving and Storage, you are choosing a company that's fully licensed and insured, offers competitive pricing, and won't surprise you with any hidden fees or charges. With so many moving scams out there, you can't be too careful. Find out for yourself what our customers have said by reading recent reviews, or get in touch with us and schedule your free estimate – and we will answer all of your questions. Your complete satisfaction is important to us!
Valencia Moving FAQ
What are the advantages of hiring professional Valencia movers?
While the most obvious advantage of hiring a professional moving company is saving yourself the time and backache of handling all the heavy lifting on your own, there are other advantages as well. Our Valencia movers have the right equipment and vehicles to pack and move your belongings, whether it's for a residential or commercial move. We are also fast, reliable, and committed to protecting everything you own so it arrives safely and on time. Hiring competent movers means you have one less thing to worry about in all the hassle and work of moving.
Will you pack everything for me?
Our team at Affordable Quality Moving and Storage can pack and unpack everything for you. We offer complete packing and unpacking services that you can customize to your budget and needs. When we go through your home or office for your free estimate, we can talk about any items or rooms you want to be packed and unpacked, and we'll list those separately. You can then decide what you want packed.
Can you move everything into storage and then into my home later?
Of course! Sometimes there is a delay in when you must move out of your home and when your new property is ready. In these cases, and in any other scenarios where belongings need to be moved into storage, we can handle this for you. Our Valencia moving company can put your belongings in storage and then move them into your new home whenever you're ready. As always, we're here to make your move easier.
All About Valencia, CA
Valencia is a community in the western part of the Santa Clarita Valley that's located along the Interstate 5 freeway, extending from Lyons Avenue north past Copper Hill Drive. Valencia is a mostly residential area with shopping centers throughout. It is made up of numerous subdivisions, including Arroyo West, Avignon, Belcaro, Las Ventanas, North Park, North Valencia, Old Orchard I and II, River Village, Summit, and many others. Valencia is also home to the Westfield Valencia Town Center, California Institute of the Arts, College of the Canyons, and most of the city's government buildings and car dealerships. The Princess Cruises headquarters are also located in Valencia.
Valencia and three other unincorporated neighborhoods (Canyon Country, Newhall, and Saugus) merged in 1987 to create the city of Santa Clarita as it is today. Most of Valencia lies within the city limits of Santa Clarita, but some unincorporated parts extend into Los Angeles County.
Valencia is widely viewed as a family-friendly community and is a great place for people who like to get outside for walking, running, or bike riding. Paved paths called paseos cross throughout the Valencia area, allowing cyclists and runners to travel the city with ease. Six Flags Magic Mountain is a main attraction in the unincorporated part of Valencia; its 19 roller coasters are great for thrill seekers. Residents and visitors can also go ice skating at The Cube, get in a round or two at the Valencia Country Club or Vista Valencia Golf Course, or go hiking at Towsley Canyon Park. In all, Valencia has a lot to offer.
Valencia Links & Resources
Contact Our Valencia Movers
If you're thinking of moving to Valencia, want to move to another state, or are considering a local move, now is your chance to involve a company that can competently handle all of your moving needs. At Affordable Quality Moving and Storage, we know moving can be tough. That's why we're here – to take the burden off your shoulders so you can focus on the more exciting parts of a move and what it means for you.
For your free moving estimate, call (661) 622-2636 or contact us online! We look forward to hearing from you.
Customer Reviews
Check Out What All the Buzz Is About!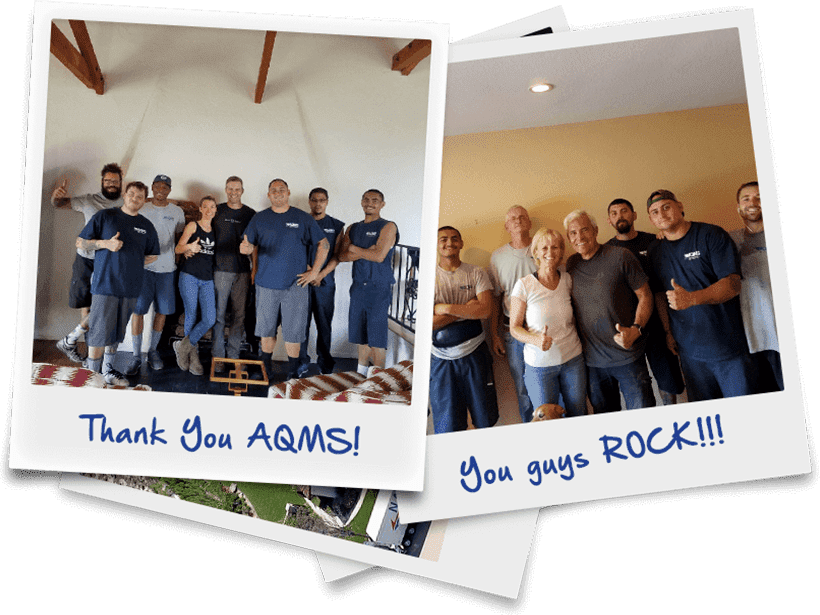 It all went without a hitch on both ends. - Laura S.

My move was a stress-free. - Alina B.

Your company is very lucky to have such hard-working dedicated employees. - Judi N.

We were extremely happy with the way everything went. - Danielle & Kris F.

Highly recommended all around. - Don T.