The Ultimate Moving Guide
A Step-by-Step Handbook for Moving from Professional Moving Experts
Everyone knows that moving costs a lot of time and energy. The team at Affordable Quality Moving & Storage knows how overwhelming moving can be, which is why we created the Ultimate Moving Checklist to make your move as stress-free as possible. Follow the steps below to make your moving process an easy one.
However, if you don't want to deal with the packing or transportation process of your move, that's no problem. At AQMS, our licensed and trained movers help customers nationwide pack, transport, and unpack their belongings in new homes all over the world. We offer a variety of services to ensure you don't have to lift a finger.
Packing Checklist
Our team at AQMS created a handy resource to make your packing process a piece of cake. Thinking ahead and planning your packing process will make it organized and stress-free.
Step 1: Take a Shopping Trip
We recommend you start gathering the packing materials you will need before you start packing. Most people typically use more boxes and tools than they think, so we recommend getting more than you think you'll need.
The essentials you'll need are:
A pair of box cutters
Small, medium, and large boxes
Bubble wrap or packing paper
All-purpose cleaner and paper towels
At least 4 dozen packing labels for a 2-bedroom home
Moving blankets
Plastic wrap
Scissors
Thick permanent markers and color markers
Tools needed to disassemble furniture (tools will vary)
Towels and sheets
Three rolls of packing tape
In most cases, a person will typically needs about 25 to 30 medium boxes for a three-bedroom house. You will also need boxes of other sizes to fix kitchenware items and large appliances. If you have a sizable library, do yourself a favor and pack them in small boxes. It may take more space, but you'll save your back in the long run.
BONUS ADVICE FOR PRO-LEVEL MOVERS
Get a tape gun. Seriously. It will cut down on the time you spend cutting tape and putting boxes together.
Step 2: Trim Down Your Packing List
There is nothing worse than spending time packing items that you end up throwing away after you've lugged it across the country. The less you pack now, the easier your moving process will be. We recommend proactively going through all your belongings to get rid of any items you don't want to keep. You can donate them, or you can even sell them to make some extra money.
Here's what you need to do:
1. In every room, divide your stuff into three piles: a Keep pile, a Donate pile, and a Trash pile.
2. Set up a rule for yourself about what you're keeping; that way, you can be objective about what stays and what goes.
3. Set the Keep pile aside for Step 3.
4. Throw away the Trash pile, and drive the Donate pile to your nearest Goodwill (or sell it to a consignment store).
BONUS ADVICE FOR PRO-LEVEL MOVERS
Ask yourself if you'll want to redecorate your new home eventually. If you plan on refurnishing your home within a month of moving in, sell the furniture you don't want now. Since furniture items are the bulkiest items to move, you should leave them behind if possible.
Step 3: Categorize Everything by What It Is, Not the Room It's In
A useful organizational tip is to group your belongings by category (instead of by room).
Packing this way avoids situations where you're packing random items into unrelated boxes at the last minute—that's how items get lost or damaged. Packing by category also allows you to unpack organically in your new home, rather than trying to organize your new space the same as your old space.
For example, you would gather all your books from all over the house and pack them together. With all your books in one place, you can unpack and store them in your new home where they best fit. Ultimately, it makes your unpacking process far easier. If you have kids who want to keep their belongings separate from everyone else's, you can apply this step according to the item's owner; that way, all belongings are organized by person and category.
Labeling boxes effectively will also save you time when unpacking and reorganizing. You can be detailed with your labeling based off categories or owner (e.g. "books" or "Max's clothes"). But don't stop there! Numbering your boxes is also a useful tip to ensure you don't lose any boxes in the transportation process.
BONUS ADVICE FOR PRO-LEVEL MOVERS
High-achieving movers implement a room-by-room numbering system. For instance, the kitchen could be designated as Room 2, and then you'd number the boxes in that room. So, a box of silverware might be labeled "2-13." Going this specific can keep you from digging through box after box to find what you're looking for.
For extra organizational security, keep a list of each box's label and its contents. Keep it handy as you're packing, and you'll end up with a thorough index of all your belongings on one sheet!
Step 4: Pack in the Right Order!
There is no better place to start packing than your storage areas. This includes your garage, basement, attic, and closets. The items in storage are most likely nonessential, which makes it the perfect place to start.
Once your storage areas are packed and labeled, you can start packing other nonessential items like decorations and artwork. These items tend to be large and fragile, which may require extra time and care to pack. Packing these items early on will make the rest of your packing process simpler.
Next, you can pack any items that you haven't used in a while. This may include books, board games, and other hobby-related items. Once all the nonessential items are packed, you can start packing essential items as your moving date starts to get closer.
To sum up, here's the order you should pack in:
1. Storage areas (garages, linen closets)
2. Decorations and artwork
3. Books, board games, and nonessential, non-daily use items
4. Essential but non-daily items, like kitchen appliances or out-of-season clothing
5. Essential and daily use items, like hygiene supplies or electronics
These can be packed well in advance, making the lead-up to your moving date far more peaceful!
Important Things to Do Before Moving
Packing is only half the battle! Although packing up the house is the biggest step in your move, there are other important steps that you can't skip. Specifically, we're talking about making copies of important documents and sharing your address with important entities (like your bank).
It's up to you when you want to take care of these steps, but we recommend doing them after you pack. Just remember to set aside these papers in a clearly-marked box!
Step 5: Make Copies of Important Documents
Making copies of important files serves two purposes: one, it keeps vital information handy without you needing to carry around an actual copy of your birth certificate (or whatever else you need). Two, it gives you a backup copy in case you can't find your box of documents after the move.
Documents that you should carry with you when you move and make copies of include:
Passports
Birth certificates/international driving permits
Health insurance cards
Marriage certificates
Wills
Work permits
Divorce papers and custody agreements
Green card or visa information
Immunization records
Key medical records
Prescription medications
Insurance policy information
Bank account, credit card, and investment account numbers
BONUS ADVICE FOR PRO-LEVEL MOVERS
Get a scanner app for your phone.
Apps like Scanner Pro let you take photos of your documents, automatically convert them to PDFs or image files, make them searchable, and export them to storage apps like iCloud or Dropbox. This is a foolproof way of making your most important papers accessible wherever you are. Some scanner apps even protect your files with your own password or PIN.
Another benefit of a scanning app is you can keep track of all your moving expenses: just take a picture of your receipt and store it digitally.
Step 6: Notify the Right People Before Moving
Moving into a new home means you need to notify numerous people and companies to prevent missing bill payments or service gaps.
You should notify the following companies and people before you move:
DMV
IRS
Post Office
Banks
Home insurer
Health insurer
Auto insurer
Doctors and schools
Social Security Administration
Electric and gas companies
Any other utilities or insurance companies
Step 7: Pack an Overnight Bag
If you're doing a long-distance move, we recommend packing an overnight bag to save you the burden of having to go through all your boxes for vital items. You should pack an extra set of clothes, a toothbrush (plus other hygiene items), and charging cables. You should also pack a clear box with other important items you may need after you're all packed up, like cleaning supplies, toilet paper, towels, soap, and bedding.
Hire Moving Experts
Whether you need someone to safely ship your belongings or you want to leave the entire packing process to the experts, our team at the Affordable Quality Moving & Storage has the equipment, licensing, and experience to pack your belongings and have them arrive at your new home in perfect condition. We offer a variety of services including local moves, long-distance and international moves, and office moves. We also provide packing/unpacking services, storage services, and moving insurance. When you choose AQMS, you can have the peace of mind knowing we'll be well-prepared to pack your items and transport them to your new home.
For a free quote, give us a call at 661-622-2636. To keep a checklist of all the items in this article, download the Moving Checklist PDF.
Customer Reviews
Check Out What All the Buzz Is About!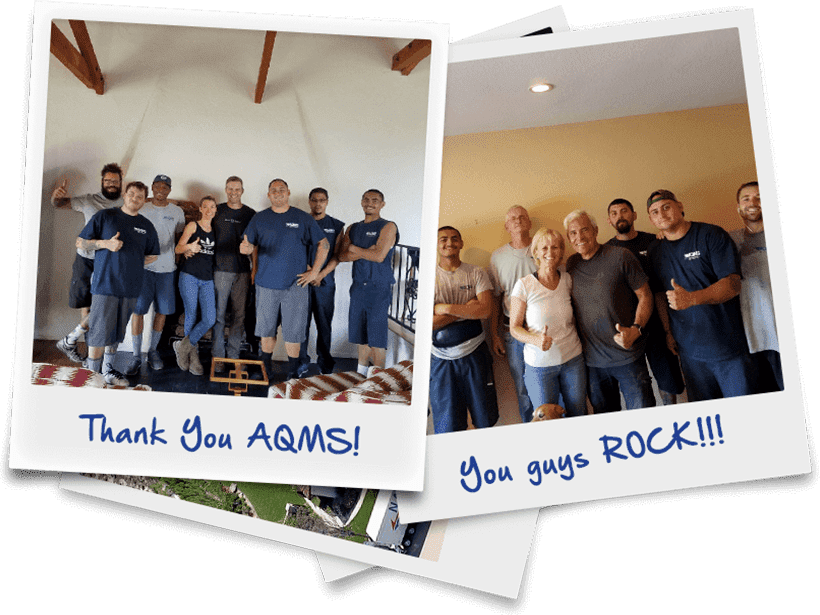 It all went without a hitch on both ends. - Laura S.

My move was a stress-free. - Alina B.

Your company is very lucky to have such hard-working dedicated employees. - Judi N.

We were extremely happy with the way everything went. - Danielle & Kris F.

Highly recommended all around. - Don T.